Why You may need to audit existing disavow report?
Reviewing an old disavow file can be a more common issue than you think. Just consider one of the following situations:
You start working with site owner with "history". Maybe some old mistakes are affecting his online visibility?
Some time ago, you had disavowed some links, but maybe some of them weren't toxic and you're losing link juice?
Or maybe you still have harmful links dragging you down?
This is the first time you're using CLUSTERIC Link Auditor for current domain and just want to load report generated manually or using other software.
How to review and correct disavow report using CLUSTERIC Link Auditor?
Please watch this short video or read the description below.
1. Analyse link profile using one of two "Disavow" rating modes.
Import links for Webmaster Tools or/and other sources, choose domain name, language and other (optional) settings. Start analysis.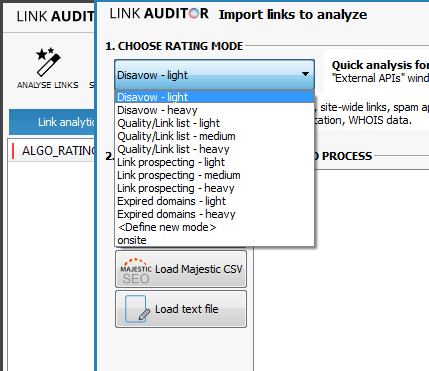 2. Load existing disavow file and mark previously disavowed links.
When analysis is finished, please choose disavow file audit option from context menu. You will be asked to choose disavow report (text file). CLUSTERIC Link Auditor will do the rest – automatically mark links matching the selected disavow file.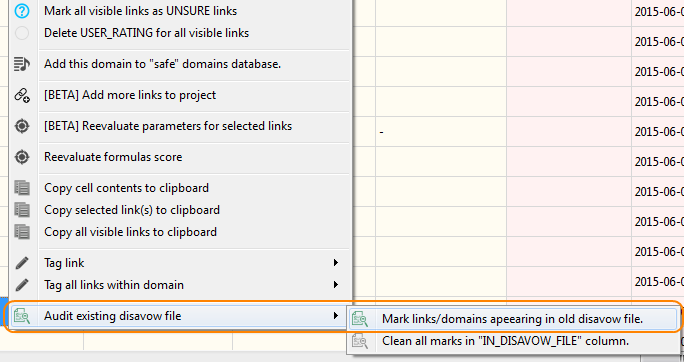 3. Verify and correct ratings.
As you can see, previously disavowed links have been marked in "IN_DISAVOW_FILE" column. If you want, use filters to easily narrow the view and show only links that appeared in disavow file.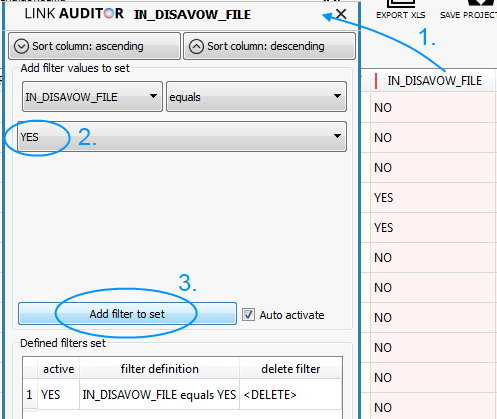 Now you can mark all visible links as BAD links and start reviewing. When you find a good quality link, simply change rating, by clicking an icon in "USER_RATING" column.


Want to manually review links that haven't been disavowed before? Simply filter "IN_DISAVOW_FILE" column to show only links with "NO" value. Mark links you want to disavow by changing "USER_RATING" (as described above).
4. Export new disavow report.
After links have been reviewed (and some ratings have been changed), it's time go generate new disavow file. To do so, please use "DISAVOW FILE" option.
The new disavow file will be based on ratings in USER_RATING and ALGO_RATING columns (when USER_RATING is empty). If you want, you can generate it using only explicitely marked links ("USER_RATING" only) by clicking: "Reload lists including only links explicitely marked by user" (2.a.?). When not using this option, you rely on "ALGO_RATING" for links with empty "USER_RATING".
Now export your report using "Save to disavow file" (2.b.) and… you're ready to replace the old disavow file with a new one – with all neccessary amendments!