Audit Links
&Disavow

Competitor Analysis

Domain visibility

Compare visibility

Expiried domains

Content&Link prospecting

Custom mode

Keyword research

Onsite audit

Search console connector

Lead extractor
Immediate preview of domain's visibility in Google (keywords, rankings, organic traffic estimation)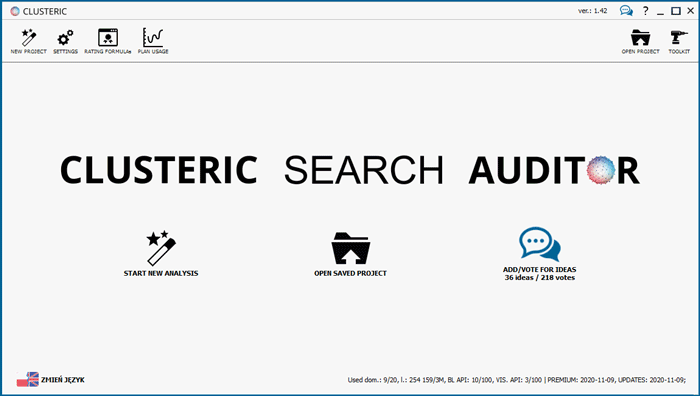 How my or competitor rankings looks like?
In what areas SEO works better?
How to make changes to win SERP?
SEO audit for bunch of concurents?
Fast check who and how rank in Google, what Google display in title, description and how categorise content.
Fast option to check how a domain preform in Google SERP and Social Media. Easy to know for ex. if Your optimalisation working and Google choose this same titles and descriptions.
Google change ranking factors daily. To follow those changes use Search Auditor and discover factors what works in certain time frame. Its a quick and easy mode to get premium data from Clusteric servers. Great for eCommerce and other long tail traffic website.
Analysed parameters:
Keywords in organic ranking
Ranking pages
Position in Google organic search
Estimated traffic
Title in Google
Indexation
Moz.com parameters
social shares
Typical applications:
Quick preview of competitors' visibility in Google results (keywords, organic traffic estimation, rankings). Keywords research. "Quick wins" audit – to select keywords/pages with some visibility that may require further optimization (to achieve beter ranks).
Additional requirements:
To download Moz.com data, please add free API key in configuration.
TRY CLUSTERIC SEARCH AUDITOR