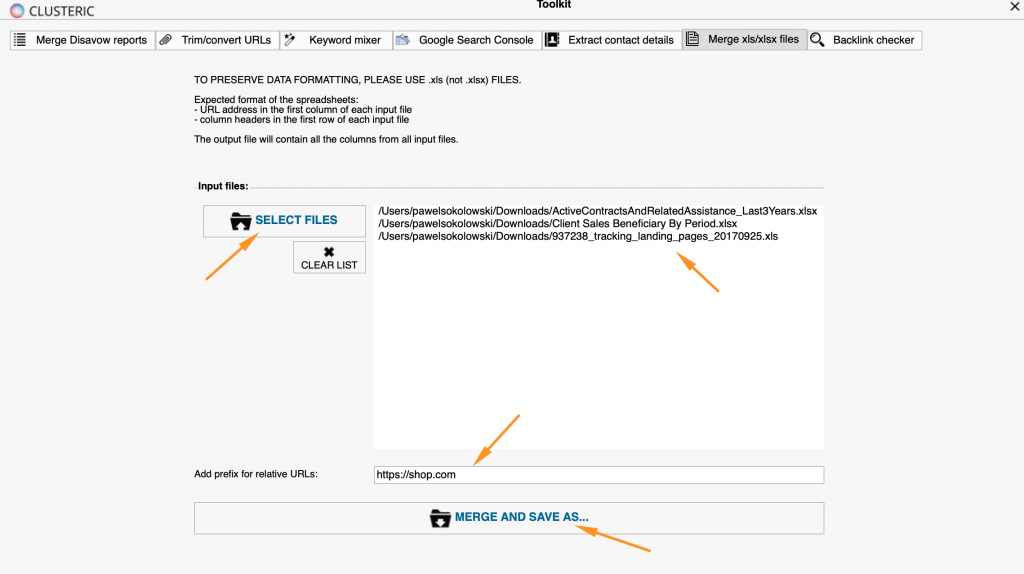 New, very powerful tool in the arsenal of "small SEO tools" to manage the process of merging Excel files (.xls / .xlsx).
This tool has innumerable applications in the process of combining and processing analytical data from various sources.
Starting from combining data downloaded from the Google Search Console with Google Analytics data at the URL level, through data from external sources combined with internal data.
A few examples of application:
E-commerce and SEO.
Sales data at the level of a given product, combined with the quality and quantity of links leading to the subpage of this product.
E-commerce and customer satisfaction (NPS)
Analytics of customer satisfaction with the product or support on the chat combined with sales from individual URLs.
Advanced SEO.
Merged report: keywords (GSC), website speed (GA), sales (GA), margin (internal data), quality of subpage (PA) and position on given keywords (external data, position monitoring) for a given language.
Analysis of expired domains for the PBN.
The combination of the export "Expired domains" with data on quantity and keywords (titles) downloaded from WebArchive (crawl onsite with individual parameters).
The possibilities of combining and analyzing data are unlimited.
How to work with the program and efficiently combine files?
1. Prepare the XLS files so that the column with the URL is first.
2. The files contain column names in the first row. Watch out for exports from Google Search Console, these usually contain a description of the export at the beginning of the file.
3. Make sure that there are no duplicates in the files.
4. If you use data with relative URLs, such as exports from Google Analytics (/product name.html), add the domain in the "Prefix" field.
5. Merge files and work on ordered data.
Use XLS files to prserv data formatting.
Change log:
New small tool – merging xls / xlsx files.
Proxy server management – optimizations.
version for MacOS – problems with auditing sites using TLS have been fixed.