Audit Links
&Disavow

Competitor Analysis

Domain visibility

Compare visibility

Expiried domains

Content&Link prospecting

Custom mode

Keyword research

Onsite audit

Search console connector

Lead extractor
Analyse expiried domains and choose best to build new projects or satelite services.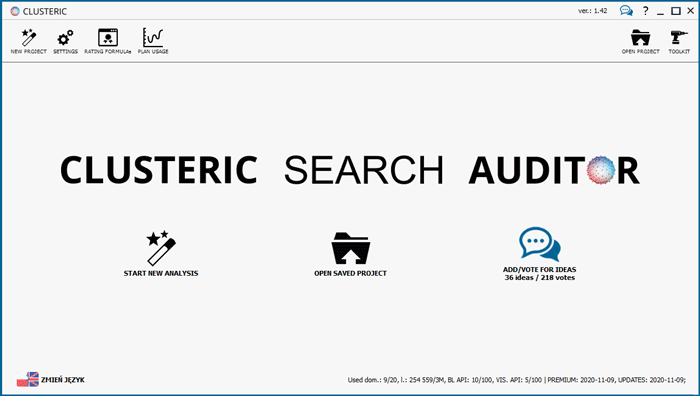 How to dominate Google with new project?
What domain and link profile is accurate?
Should I change domain with bad history?
How can I get more traffic?
Estimating value of expired domain names for any project!
LIGHT MODE:
Fast option to check hundred thousands of domain according to primary criteria
Checking large amounts of domains is tough. We know this, and simplify the process of settings that help save time and resources. Want to quickly find a suitable domain for your project? A domain that has a history, good links and visibility in social media? You've come to the right place!
In Search Auditor user can define main selection criteria up front (ex. FB likes > 100). Next domain parameters are checked only as long as domain meets main criteria (to speedup the analysis and save resources). Analysis proceeds DNS respond, availability check, indexation, socials, spamAPI, etc.
HEAVY MODE:
Deep analyse taking care for additional parameters, for smaller lists of expiried domains. Extended informations about domains through more resources and parametres.
Deeper analysis takes into consideration all LIGHT parameters plus: link's context, page subject, keywords and tens of other onsite/off-site factors.
Analysed parameters:
LIGHT:
DNS config
spam API
black-hat lists
Google indexation
Moz.com (homepage)
Alexa.com
Web.archive.org
social shares (homepage)
Page Rank
hosting
geolocation
WHOIS data
HEAVY:
+Ahrefs params
+Google cache
Typical applications:
Selecting potentially valuable domain names (good age, popularity, link profile) – to setup a site, blog or link network.
Additional requirements:
Using proxies is advised. To download Moz.com data, please add free API key in configuration. To download Ahrefs data and Majestic params, please add OpenApps access in configuration.
TRY CLUSTERIC SEARCH AUDITOR