Audit Links
&Disavow

Competitor Analysis

Domain visibility

Compare visibility

Expiried domains

Content&Link prospecting

Custom mode

Keyword research

Onsite audit

Search console connector

Lead extractor
Find inspirations for content, link building and influencers marketing strategy quickly and easily.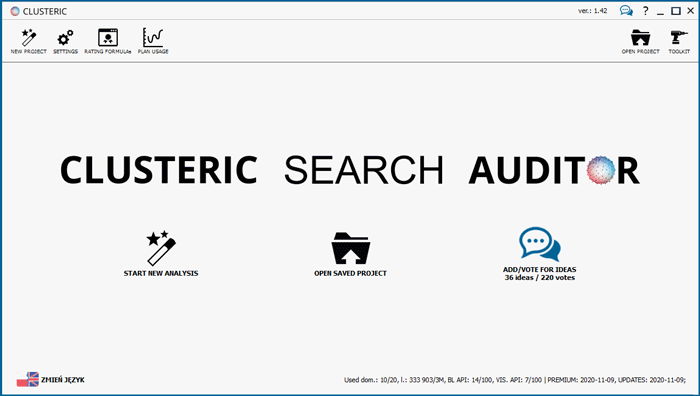 What strategies work for the competition?
How obtain influencers to publish content?
Where to publish thematic content?
How to get links from trusted websites?
Searching for the best marketing possibilities using list of keywords or working competitor strategy.
Three modes (Light | Medium | Heavy) covers all depths of analitical needs.
Searching for the best marketing oportunity based on Google Index. Use Google rankings to find where and how promote Yours topics.

Wondering how to attract new visitors to your webshop or blog? How do others do it? Where to place the articles, which relate to topics? How Google assesses the content?
Search Auditor answers these questions and allows you to build an effective strategy of visibility on the Internet. Use a predefined list of topics, obtain insight into the operation of competition or acquire influencers during examine specific niches. Quickly and easily find out where and how to obtain interested in Yours topics.
The perfect tool for planning tactical actions for content marketing, where on the basis of the planned distribution model, we create new content tailored to the interests of users of the target channel.
Great insight mode to know how use already high ranked websites to promote Your content or product. With build in harvester, its easy to build a list of possibilities based on topics choosed in "Keyword research" mode. Reach influencers, comment on similar topics, make some buzz or just build similar content strategy. In Medium and Heavy mode check how potential prospects match content present on Your website.
Analysed parameters:
LIGHT:
Google SERP for certain keywords
spam API
black-hat lists
Google indexation
Moz.com (homepage)
Alexa.com
Web.archive.org
social shares (homepage)
Page Rank
hosting
geolocation
WHOIS data
MEDIUM:
+onsite factors
+Majestic params
HEAVY:
+Moz.com (subpage)
+Ahrefs params
+Majestic params (subpage)
+social shares (subpage)
+duplicate content
+Google cache
Typical applications:
Finding the best marketing opportunitys in your niche (for content, influencers, link building).
Additional requirements:
LIGHT: To download Moz.com data, please add free API key in configuration.
MEDIUM, HEAVY: Using proxies is advised. To download Ahrefs data and Majestic params, please add OpenApps access in configuration.


TRY CLUSTERIC SEARCH AUDITOR