Audit Links
&Disavow

Competitor Analysis

Domain visibility

Compare visibility

Expiried domains

Content&Link prospecting

Custom mode

Keyword research

Onsite audit

Search console connector

Lead extractor
Analyses TOP results for a given keywords and estimates organic difficulty with on/offsite factors.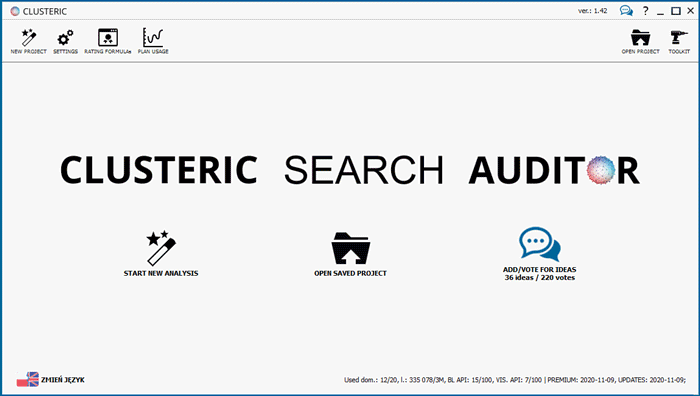 How best ranking websites are build?
What type of content they use to rank?
How to chalange them and over rank?
Where to find a possibility to gain traffic?
Over rank competitors with keyword tactics and win organic traffic.
Play with keywords and win organic traffic!
More and more people are go for longer terms in search, use them to find a opportunity to gain more traffic from organic search.
Strategies SEO activities combined with marketing content start with the definition of potential keywords and their adjustment to the target profile.
A search of hundreds of keywords in a short time, together with an indication of their difficulties is the main feature of this mode. Using the strategy of positioning for certain keywords and onsite audit gives excellent results SEO.
Analysed parameters:
Content optimisation
AdWords
on-site
off-site factors
internal/external links
domain's age
organic traffic
popularity in social networks
Typical applications:
Selecting "achievable" keywords for promotion, competitors' analysis.
Additional requirements:
To download Moz.com data, please add free API key in configuration. Using proxies is advised. To download Ahrefs data and Majestic params, please add OpenApps access in configuration.
TRY CLUSTERIC SEARCH AUDITOR