CLUSTERIC LINK AUDITOR PLANS
Clusteric Link Auditor plan consists of two components:
– number of domains to be analysed (especially in disavow modes)
– number of links to be analysed
For instance: your plan allows you to analyse 20 domains and 3 000 000 links per month. It also means that:
– these 20 domains can be re-analysed (the same month) without additional domain usage
– the number of links to be analysed means the links that are ACTUALLY analysed by program. If you have domain with 150 000 SITE-WIDE links and only 1200 of them are scheduled for analysis, only 1200 links will be taken from your plan.
Within your plan, you can analyse any parameters you want and access all CLUSTERIC PREMIUM (with active PREMIUM access) components as well.
Some basic information about your current (this month) plan usage (such as number of analysed/available domains (disavow mode), analysed/available links, membership expiry date) and software version is available in the title bar.


You can check the list of analysed domains by clicking "PLAN USAGE" button in the main menu. The domains on the list can be re-analysed (this month) without additional domains usage (your plan will be updated only by the number of links scheduled to process).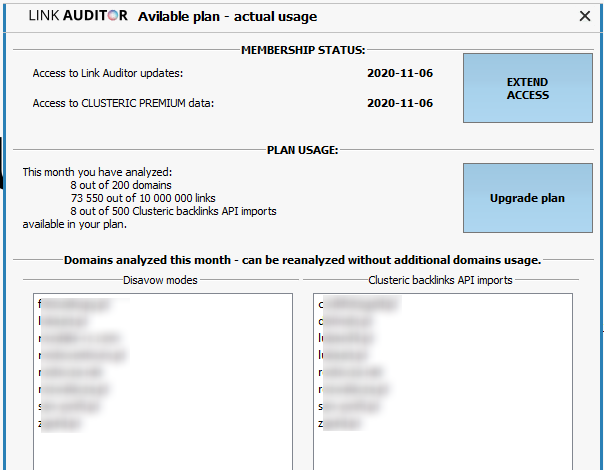 SOFTWARE UPDATES
You can check your Link Auditor version on the title bar. When there is an update available, the additional red marker will also be shown there.


Click on the red marker (click on the title bar works as well) to get to the updates window: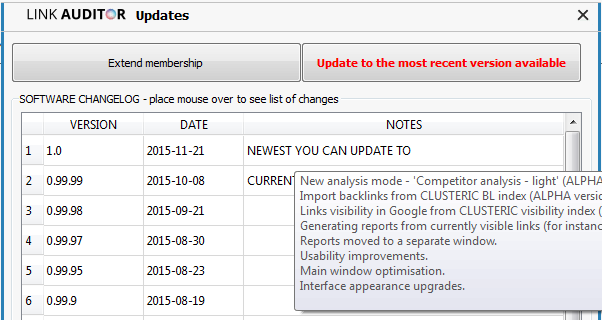 Move your mouse over the version number to see the changelog. Click "Update to the most recent version available" to start Link Auditor update. The program will download neccessary files and restart.
HOW CAN I EXTEND MY ACCESS TO UPDATES/PREMIUM API?
You can always check your membership status in PLAN USAGE window (1.):

As you can see, expiry dates are visible in the title bar as well (2.).
When your access is close to expiry date (or has already expired), you will get notified in the title bar.

To extend your access, please click "EXTEND NOW!" button in the title bar, or "EXTEND ACCESS" button in "PLAN USAGE" window.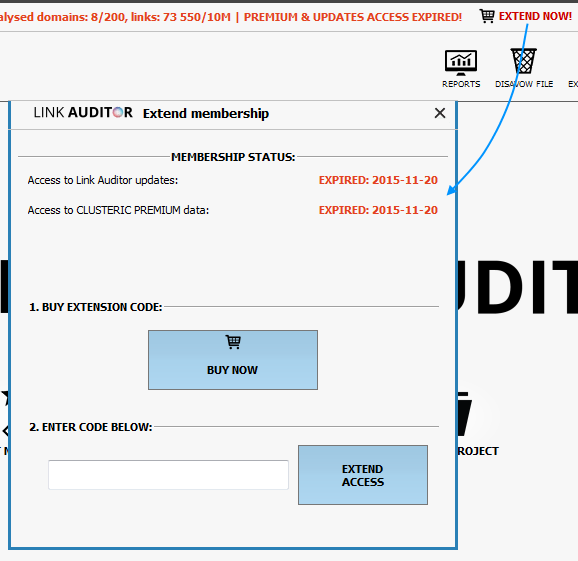 Now, press "BUY NOW" to purchase an extension code. Your browser will direct You to the order form, where you can choose if you want to extend both UPDATES and PREMIUM data access (recommended) or UPDATES only and select extension period.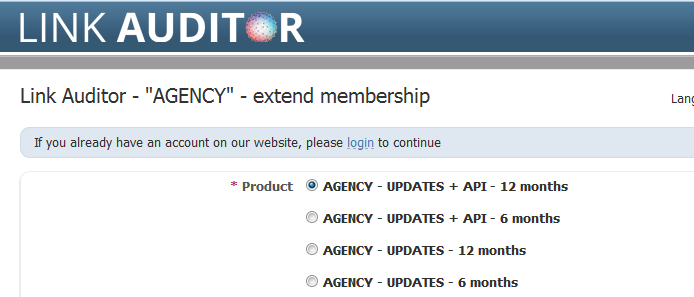 After processing the payment, you will receive the extension code – please put it in "Extend membership" window.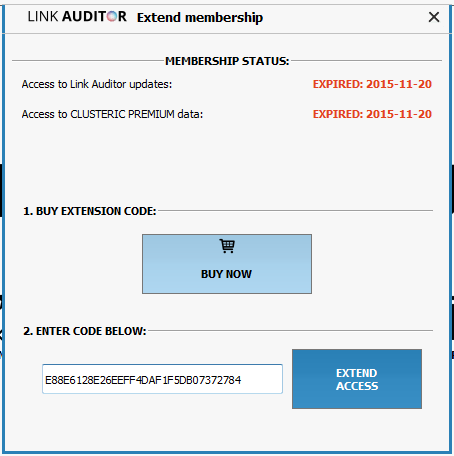 That is all. From now, you can enjoy your extended access!