Audit Links
&Disavow
Competitor Analysis
Domain visibility
Compare visibility
Expiried domains
Content&Link prospecting
Custom mode
Keyword research
Onsite audit
Search console connector
Lead extractor
All power of Clusteric Search Auditor available for You in as many custom modes as You like.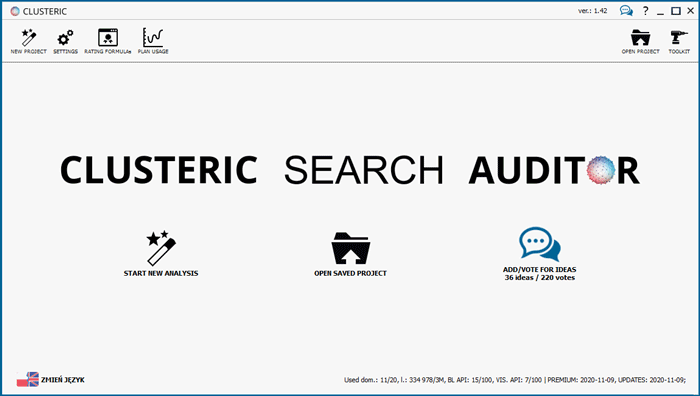 Toxic link report need extra parameters?
Manual penalty not solvet yet?
Trying to find topics perform better?
Hited by algo and cant recover?
Search Auditor will help you to perform valuable link audit and identify possible risks!
Any analyse (fast, large, deep) based on custom formula. Good example is a simple reporting of social shares or large report of webshop visibility in Google, based on cache and taking in to consideration ex. content duplication between pages.
You need a quick analysis of several parameters of social media, and maybe deep analysis based on Goocle Cache and duplicate content? Do you want to analyze the activity of the competition based on the model of visibility for individual segments? Or maybe you're interested in a specific SEO audit performed in the web store, which should focus on specific elements?
With Clusteric Search Auditor You can set any analysis according to their own parameters and formulas. Then save it and use images at any time to determine changes in the project over time.
Analysed parameters (available ~120 parameters and ~50 formulas):
onsite factors
site-wide links
Google visibility
spam API
black-hat lists
Google indexation
Moz.com (homepage)
Alexa.com
Web.archive.org
social shares (homepage)
Page Rank
hosting
geolocation
WHOIS data
Moz.com (subpage)
Majestic params
Ahrefs params
social shares (subpage)
duplicate content
Google cache
Typical applications:
Analyse based on user criteria.
Additional requirements:
To download Moz.com data, please add free API key in configuration.
Using proxies is advised. To download Ahrefs data and Majestic params, please add OpenApps access in configuration.
More informations:
http://clusteric.com/tag/custom/
TRY CLUSTERIC SEARCH AUDITOR