Audit Links
&Disavow
Competitor Analysis
Domain visibility
Compare visibility
Expiried domains
Content&Link prospecting
Custom mode
Keyword research
Onsite audit
Search console connector
Lead extractor
Mode designed to quickly determine competitors' key backlinks, keywords & strategy used to build strong visibility in Google.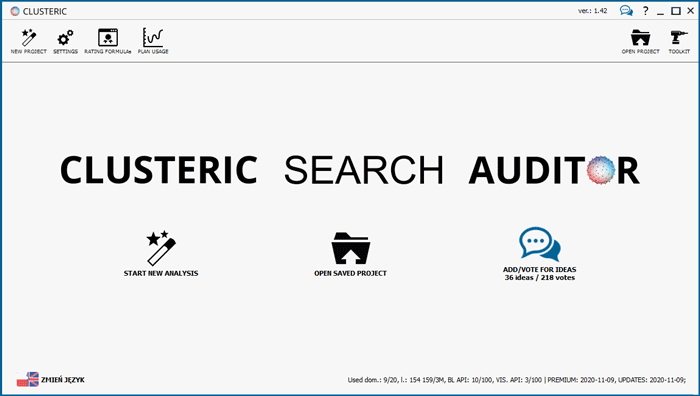 How to rank smart in Google?
What keywords our competitor's use?
What SEO tactics are working?
How to outrank competitors?
With Search Auditor its easy to recognize competitors' SEO/CM strategy and duplicate it!
Recognise SEO strategy (Black or White Hat)

Find and evaluate competitors links. Define best channels, influencers, PBN blogs, and other factors visible in Google with link pointig to analysed domain. Reveal best traffic sources and type of strategy that works (or not) for analysed domain.

Reveal keywords and topics used by competitors

Keyword/topic analyse is a key to understund why traffic comes to competitor website. What content marketing tactics they use. How problems and solutions are defined. Quick win, specialy when analysing TOP10 for certain keywords.

Analysed parameters:
onsite factors
site-wide links
Google search engine visibility
spam API
black-hat lists
Google indexation
Moz.com (homepage)
Alexa.com
Web.archive.org
social media/shares (domain level)
hosting
geolocation
WHOIS data
Typical applications:
Quick insight into competitor's backlinks strategy and determining their key links sources, content marketing tactics and organic visibility.
Additional requirements:
To download Moz.com data, please add free API key in configuration.
clusteric.com/tag/link-profile-analysis
More informations:
TRY CLUSTERIC SEARCH AUDITOR